Metal and Plastic Small Part CNC Turning
Coleys is a precision CNC turning machine shop producing high-quality, cylindrical metal and plastic parts and components with diameters ranging from .125 to 50".
With more than 50 years of industry experience, we've refined our processes and expanded our partnerships, leading to quick turnarounds, on-time deliveries, and minimal waste. We have nearly 50 CNC turning centers and specialists ready to help with your next small-part CNC turning project.
Learn more about our CNC turning services by getting in touch with us today.
Our Small Part CNC Turning Capabilities
CNC machining has dominated the manufacturing industry for years because of its high precision and repeatability. The process uses high-speed computer-controlled cutting tools to remove material from a solid workpiece and reveal a finished part. Coleys' part-turning technique is well known for yielding accurate results and quick production times.
Turning small components requires a different style of tooling than large part turning. Small part turning is required when the workpiece being produced is smaller than 1" in diameter (d.). With small components, tool pressure is a primary concern. Very small parts can easily deform during turning operations.
Coleys' skilled specialists can handle your small parts machining needs with ease on one of our high-speed CNC machines. Our diverse production turning facility is well equipped to produce small Swiss components and CNC chucker parts. From CNC production bar machines to Vertical Turning Lathes, Coleys has the ability to machine the desired shape for your next project.
High-Accuracy Small Turned Parts
These multi-tasking, dual-spindle machines make turning and milling a simple task all in one set-up, shortening your overall cost and lead time. Their synchronized rotation delivers high-accuracy CNC turning parts including:
Cylinders
Shafts
Spindles
Axles
Journals
Bearings
Bearing cages
Gear blanks
Forge nuts
Wheels
Advantages and Flexibility
There are certain applications where small-part CNC turning has an advantage over other machining solutions including:
Flexible quantities: With decades of experience and the physics of turning compared to milling, we can be flexible in our production. Coleys can produce a few pieces using a chucker or shaft machine, or up to hundreds of thousands using a fully robotic chuck or bar machine.
Cost-efficient production: Coleys' production efficiency allows us to deliver quality parts at lower margins for larger orders. We also offer great rates on small-run orders as well.
Material capabilities: We produce turned parts using a wide array of plastic and metal materials such as aluminum, copper, brass, steel, alloys, stainless grades, and exotics.
Broad sizing options: We can run Swiss, screw, and turn parts on multiple machines of every size ranging from 6", 8", 10", 12", 15", 18", 21", 24", 39", and 40" chucks with diameters ranging from .125 d. to 50" d.
Industries
Our CNC turning services benefit a wide range of industries, including:
Semiconductor industry
Aerospace industry
Automotive Industry
Electronic industry
Machine tool industry
Medical industry
Military industry
Plumbing industry
Food industry
CNC Turning Service Applications
From spacers and manifolds to fittings, shafts, and bushings, CNC turning can be used for various applications.
Check out our gallery to see some examples of CNC turning and milling projects we've completed.
We Partner with Innovative, Growth-Minded Manufacturing Companies
Our quality, performance, and commitment to growth and innovation has fostered multiple successful partnerships with top CNC manufacturing companies across the country. We are proud to work with a wide variety of businesses throughout dozens of industries. Built on trust and common goals, we find that these partnerships are mutually rewarding and create lifelong bonds.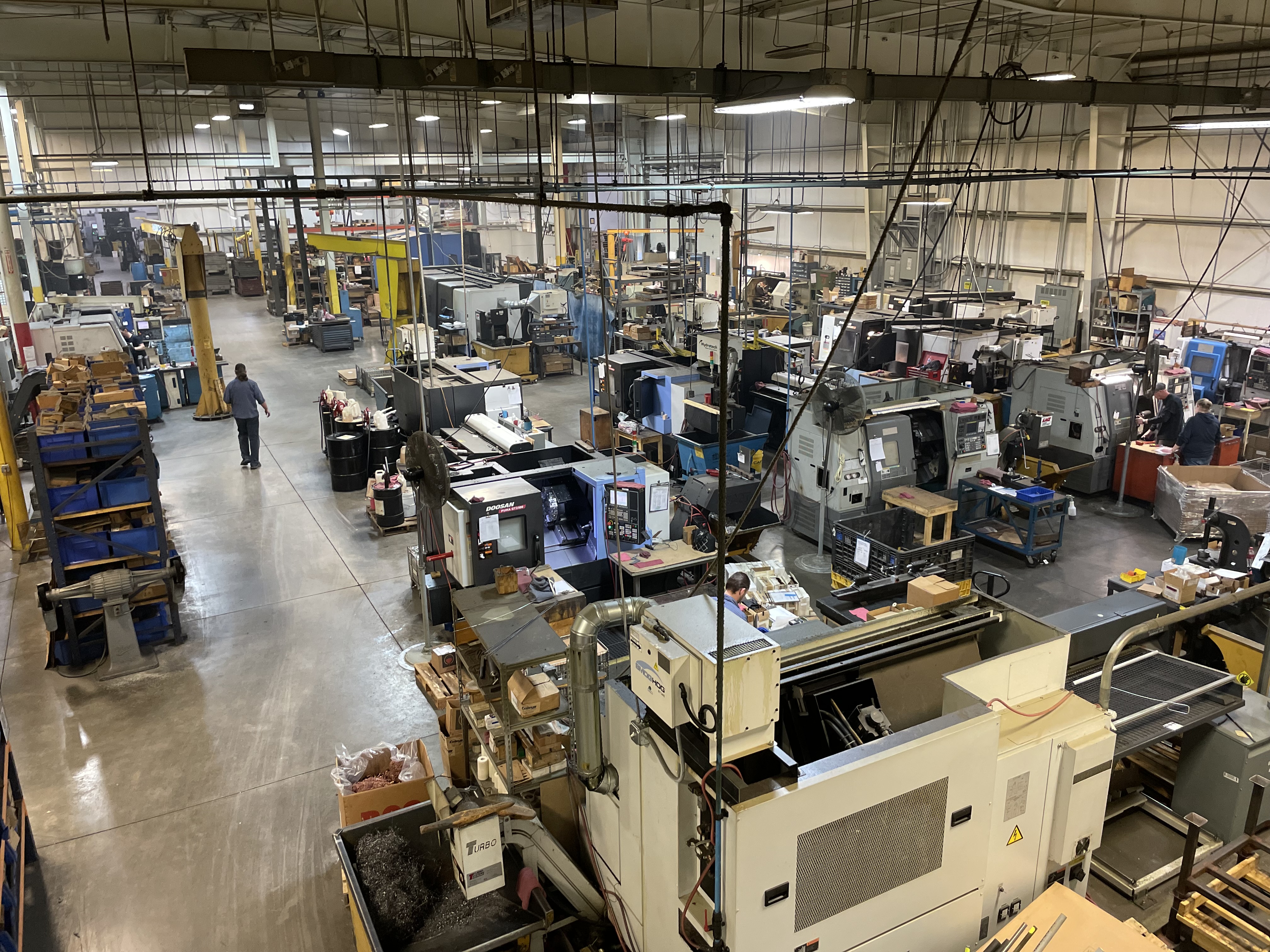 About Coleys CNC Machining
For over 50 years, Coleys Inc. has provided high-demand, low-tolerance industries with superior quality machining. Our services range from simple drilling of production-ready parts to the complex fabrication of intricate designs.