About VTL Work
Vertical turning lathes (VTL) are machines that orient the spindle in the vertical plane in a fixed position. The workpiece then spins, moving up and down to put it in line with the cutting head. These machines are less complex than horizontal lathes. This machining option is best for pieces that focus on shaping a single side of a part. While not suited for high-production runs, they excel at taking heavy cuts on medium and large parts.
These large ram-type machines are also sometimes called vertical boring machines (VBMs), an indexable tool turret head distinguishes the two.
VTL Capabilities
Large metal plates, brake disks, pump housings, aircraft parts, heavy equipment parts, energy field parts, and sinking dies are excellent examples of what a vertical lathe can do. If there is any question of the workpiece sagging, having the solid base ensures that doesn't happen, keeping the part square and true.
We can easily handle all standard metals, producing parts for a variety of purposes. This includes soft metals like aluminum, brass, copper, and harder metals like different grades of steel, titanium, and specific alloys.

Vertical Lathe Components
Headstock assembly - drives the spindle of the lathe
Chuck - sits at the end of the spindle and holds the workpiece as it rotates
Jaws - securely holds the workpiece in the chuck
Ways z-axis - drives the cutting tools up and down to perform cutting processes
Ways x-axis - The rail that moved the workpiece in and out, positioning the cutter closer or farther away from the center.
Workpiece - the piece being machined that clamps into the jaws of the chuck
Multi-tool turret - holds multiple cutting tools for different operations and switches them out automatically
Cutting tool - takes cuts from the workpiece to form the final part
Bed - the heavy cast iron base underneath the work area that the chuck is attached to.

The Advantage of

Vertical Turning
There are certain applications where a vertical turning lathe machine has an advantage over other machining solutions. We take advantage of this to produce better parts and more efficient machine pieces.
Heavy workpieces are easily set up and held in place when machining. Gravity works with the machine to keep the part in place, and minimal clamping is required compared to other processes. Our machines can accomplish this while taking up less space than a comparable horizontal lathe would.
VTLs that have the main spindle load and unload themselves are able to multitask when machining and producing chucked parts, reducing machining times and turnaround for our customers.
Our vertical lathes accommodate bigger and heavier castings within our shop than a horizontal lathe would. We are able to take heavier cuts safely without messing up our tolerances. This cuts down on cycle times because we can more aggressively remove material. We can control the final surface finish from semi-finished to fine, giving our clients excellent results right off the machine without any grinding required.
The rotating table supports the workpiece. A precision ram drives the x-axis and delivers the cutter to the desired location.

Turning Processes
Turning Processes our machines can handle:
Boring
Cutting
Drilling
Facing
Internal Forming
Knurling
Necking
Parting
Shoulder Facing
threading (external, internal)
turning (contour, form, taper, straight)
Our VTL capabilities also include a wide variety of turning operations. One example is contour turning, the process of creating a contoured shape from the tool's path. We handle form turning to feed shaped tools radially into the lathe. We can do tapers at whatever angle is required. Straight turning to maintain a perfect cylinder at the desired dimension is no issue for our VTLs.

Applications
Some of the applications we use our vertical turning machines for include:
4th Axis Machining
3D Profiling
Casting Machining
Bore Repair
Valve Repair
Part Mapping
Press Plate Machining
Production Runs
We Partner with Innovative, Growth-Minded Manufacturing Companies
Our quality, performance, and commitment to growth and innovation has fostered multiple successful partnerships with top CNC manufacturing companies across the country. We are proud to work with a wide variety of businesses throughout dozens of industries. Built on trust and common goals, we find that these partnerships are mutually rewarding and create lifelong bonds.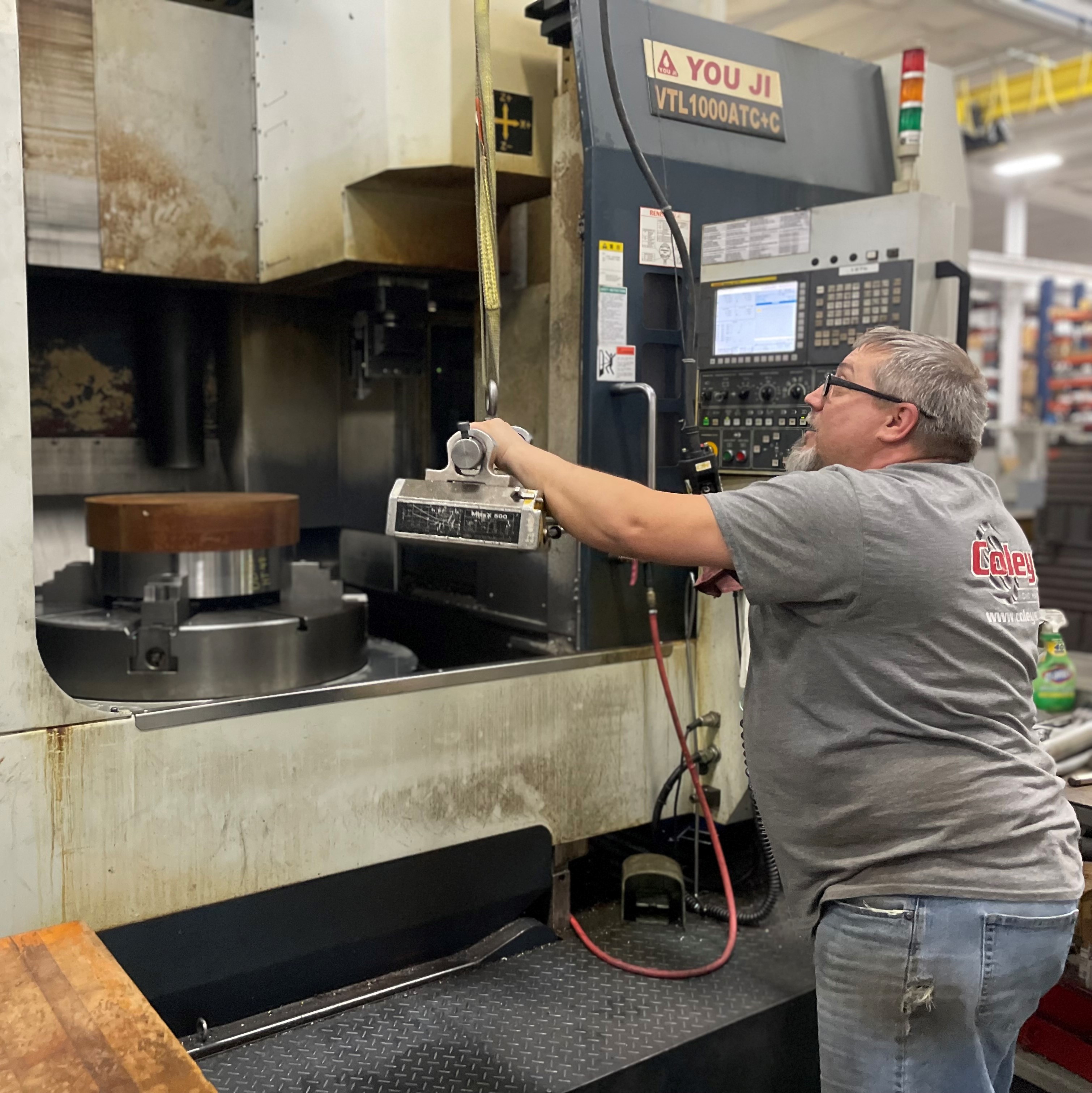 About Coleys CNC Machining
For over 50 years, Coleys Inc. has provided high-demand, low-tolerance industries with superior quality machining. Our services range from simple drilling of production-ready parts to the complex fabrication of intricate designs.